Lorikeets: Low Iron Diets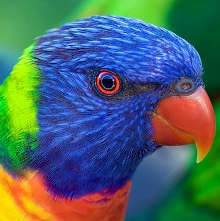 Lorikeets, also known as lories, are able to extract almost all of the iron present in their food which leads to iron storage disease (hemochromatosis).  Life-threatening levels of iron build-up in the cells of liver and other organs, which leads to profound liver damage and organ failure.  Affected lories have difficulty breathing, a fluid-filled swollen belly, depression, paralysis, or may suddenly die.  Treatment of hemochromatosis includes phlebotomy to remove iron-rich red blood cells and removal of coelomic fluid to improve breathing. Medications are given to support liver function, block absorption of iron from the gut, and to bind any iron that was absorbed into the bloodstream before it reaches internal organs.  The outlook is poor even with aggressive care.
A low-iron diet is key to preventing and managing this disease.  Food should contain less than 100 ppm iron (100 mg iron/kg food), and some veterinarians believe lorie diets shouldn't exceed 50 ppm. A commercial diet with iron content under 100 ppm should be 75 to 90% of a lorie's diet.  Avoid feeding any iron-rich foods such as apricots, baby foods, canned or processed fruits, and vertebrate animal protein.  The rest of the diet should be low-iron produce such as listed in the table below, with any fruit between 5 and 10 ppm iron used no more than twice a week.  Vitamin C plays a role in promoting absorption of iron, but it is still necessary in the diet.  Any item with more than 75 ppm vitamin C should be used no more than twice a week, and any fruits 250 ppm and over should only be occasional treats.
Be sure to have your drinking water's iron content checked, even if you are getting bottled water or using a mineral filter.  As a general rule, public drinking water has 0.3 ppm iron since high concentrations affect its taste and should not affect lories adversely.  However, groundwater (well water) is often over 100 ppm iron, and even some bottled waters are too high.
Commercial black or pekoe teas have tannins that bind iron and may reduce its absorption into the body.  Tea may be a helpful preventive or even treatment for lories.  Place enough tea into your lorie's drinking water so there is just a tint of brown water.  Use as sole drinking source for a few weeks, then stop for a few weeks.  This rest period allows the lorie a chance to absorb other nutrients that the tea blocks.  Alternate the tea and pure water as a life-long practice.  Don't use herbal teas since they do not have the necessary tannins.
Iron content (ppm) and vitamin C content (ppm) of recommended fruits and other produce for lories, and suggested frequency of use.
| | | | |
| --- | --- | --- | --- |
| Produce | | | Frequency of Use |
| Apple, peeled | <1 | 40 | Daily |
| Asian pear | 0 | 40 | Daily |
| Banana, peeled | 3 | 90 | Twice weekly |
| Cantelope | 2-3 | 400 | Treat |
| Cucumber, peeled | 2-3 | 35 | Daily |
| Honeydew Melon | 1-2 | 200 | Twice weekly |
| Mango, peeled | 1-2 | 400 | Treat |
| Papaya, peeled | 1-2 | 600 | Treat |
| Peaches | 2-3 | 70 | Daily |
| Pears | 1-2 | 50 | Daily |
| Peppers, Sweet Green | 3 | 1300 | Treat |
| Peppers, Sweet Red | 4-5 | 800 | Treat |
| Pineapple | 3 | 500 | Treat |
| Plums | 1-2 | 100 | Twice weekly |
| Raspberries | 7 | 250 | Treat |
| Star fruit (carambola) | 8 | 350 | Treat |
| Strawberries | 4 | 600 | Treat |
| Watermelon | 2-3 | 90 | Daily |