Dr. Anthony Pilny, DVM, Dipl ABVP (Avian Practice) - Director of Education, Hospital Owner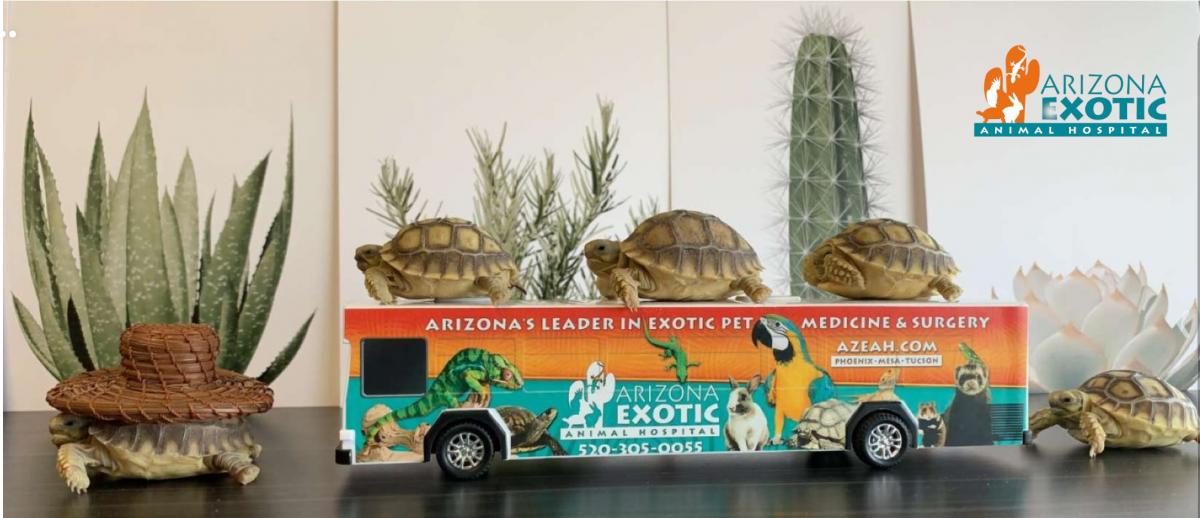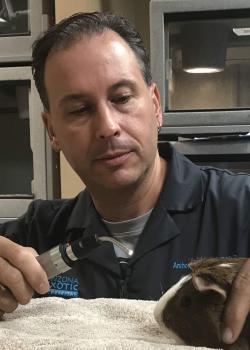 Dr. Pilny is a native New Yorker but joined Arizona Exotic Animal Hospital by way of Los Angeles, California.  Dr. Pilny is a graduate of the University of Florida's College of Veterinary Medicine. He completed an internal medicine and surgery internship at Florida Veterinary Specialists in Tampa, Florida and a residency in Avian and Exotic Pet Medicine and Surgery at The Animal Medical Center in New York City. He is a diplomate of the American Board of Veterinary Practitioners certified in Avian Practice since 2005, and currently serves as vice-chair for the maintenance of certification committee.
Dr. Pilny has lectured nationally and internationally about avian and exotic pet medicine and has published numerous scientific articles and book chapters on birds and other exotic species. Dr. Pilny is a member of the Association of Avian Veterinarians, Association of Exotic Mammal Veterinarians, Association of Reptile and Amphibian Veterinarians, and the American Veterinary Medical Association. He currently serves as the Veterinary Advisor to the House Rabbit Society and serves on the advisory board of The Avian Welfare Coalition.
Dr. Pilny loves traveling, hiking, being a "foodie," and collecting Zuni Fetish animal carvings – of which he has a very large collection. Dr. Pilny is also trained in making traditional stained glass art. He shares his home with seven pet birds – including a rescued pigeon, two cats, two rabbits, a goldfish, many desert tortoises, and a snake.
PROFESSIONAL PUBLICATIONS
GA Kunkle, CA McCall, KE Stedman, A Pilny, C Nicklin, DB Logas. Pilot Study to Assess the Effects of Early Flea
Exposure on the Development of Flea Hypersensitivity in Cats J Feline Med Surg 5(5):287-294, 2003

Pilny AA and Hess LR. Ferrets: Wound Healing and Therapy. Vet Clinics N Amer Exotic An Prac, 7(1): 105-121, 2004

Pilny AA and Hess LR. Gastric Stasis in a Rabbit – What is Your Diagnosis? J Am Vet Med Assoc. 225(5):681-2, 2004

Pilny AA and Hess LR. Prairie dog care and husbandry. Vet Clinics N Amer Exotic An Prac, 7(2): 269-282, 2004

Pilny AA Abdominal enlargement and tachypnea in a budgerigar. Lab Anim (NY) 33(5):18-21, 2004

Pilny AA and S Chen. Insulinoma in Ferrets: Diagnosis and Treatment, Comp Cont Educ Prac Vet, 26(9):722-729, 2004

Pilny AA and RL Luong. Diabetes Mellitus in a Chestnut-fronted Macaw. Journal of Avian Medicine and Surgery, 19(4): 297-
302, 2005

Pilny AA and KE Quesenberry. Avian Neurology In: Saunders Manual of Small Animal Practice, 3rd ed., Saunders,2006

Brown CJ, Pilny AA Clinical Techniques: Air sac cannula placement in birds, Lab Anim (NY) 35(7):23-24, 2006

Pilny AA, The Avian Pancreas in Health and Disease, Vet Clinics N Amer Exotic An Pract, 11(1):25-34, 2008

Ritchie M, Pilny AA, The Anatomy and Physiology of the Avian Endocrine System, Vet Clinics N Amer Exotic An
Pract ,11(1):1-14, 2008

Pilny AA, Reavill DR. Chylothorax and Thymic Lymphoma in a Pet Rabbit, Journal of Exotic Pet Medicine, 17(4):295-299,
2008

Pilny AA, Clinical Hematology of Rodent Species, Vet Clinics N Amer Exotic An Pract 11(3): 523-533, 2008

Dong C, Meng J, Dai X, Liang JH, Feagins AR, Meng XJ, Belfiore NM, Bradford C, Corn JL, Cray C, Glass GE,

Gordon ML, Hesse RA, Montgomery DL, Nicholson WL, Pilny AA, Ramamoorthy S, Shaver DD, Drobeniuc J, Purdy
MA, Fields HA, Kamili S, Teo CG. Restricted enzooticity of hepatitis E virus genotypes 1 to 4 in the United States.
J Clin Microbiol. 2011 Dec;49(12):4164-72.

Pilny AA, Quesenberry KE, Lymphoproliferative Disorders and Thymomas Ch 20, In: Ferrets, Rabbits, and Rodents
Clinical Medicine and Surgery Elsevier 2012: 262-268

Pilny AA, Quesenberry KE, Bartick-Sedrish TE et al, Evalution of Chlamydophila psittaci infection and other risk
factors for atherosclerosis in pet psittacine birds. JAVMA 240:12, 1474-1480, 2012

Niemuth JN and Pilny AA. MRSA Skin and Soft Tissue Infection in a Wild Easter Grey Squirrel: A Case Study. J.
Wildlife Rehab. 32(2): 13-16.

Pilny AA Prairie Dogs-Odontoma In: Mayer and Donnelly eds, Veterinary Clinical Advisor: Birds and Exotic Pets,
Saunders, 2013

Pilny AA Topics In Endocrinology, Issue Editor In: Vet Clin N Amer Exot An Pract (17):1, Jan 2014

Pilny AA Small Exotic Mammal Wellness Care, In: Vet Clinics N Amer Exot An Pract (18):2, pg 245-254, May 2014

Pilny AA Egg Binding in pet birds. Clinicians Brief. Vol 14(5); 49-51.2016

Pilny AA Egg Yolk Coelomitis, Polyostotic Hyperostosis, Chronic Egg Laying In: Graham JE ed Blackwell's Five
Minute Veterinary Consult: Avian, Wiley-Blackwell, 2106

Pilny AA Preventing and Reducing Behavior Problems in African Grey Parrots. Clinicians Brief, May 2017
C. Warwick, M. Jessop, P. Arena, A. Pilny, E. Nicholas and A. Lambiris. Future of keeping pet reptiles and amphibians:
animal welfare and public health perspective. Veterinary Record 2017 181: 454-455

C. Warwick, C. Steedman, M. Jessop, P. Arena, A. Pilny, E. Nicholas. Exotic pet suitability: Understanding some
problems and using a labeling system to aid animal welfare, environment, and consumer protection. Journal of
Veterinary Behavior, 26:(2018);17-26

Pilny AA Use of a Compounded Poloxamer 407 Antibiotic Topical Therapy as Part of the Successful Management of
Chronic Ulcerative Dermatitis in a Congo African Grey Parrot (Psittacus erithacus). J Avian Med Surg. 2018 Mar;
32(1):45-49

C. Warwick, M. Jessop, P. Arena, , A. Pilny, C. Steedman. Guidelines for inspection of Companion and Commercial
Animal Establishments. Front. Vet. Sci. July 2018 https://doi.org/10.3389/fvets.2018.00151