About Arizona Exotic Animal Hospital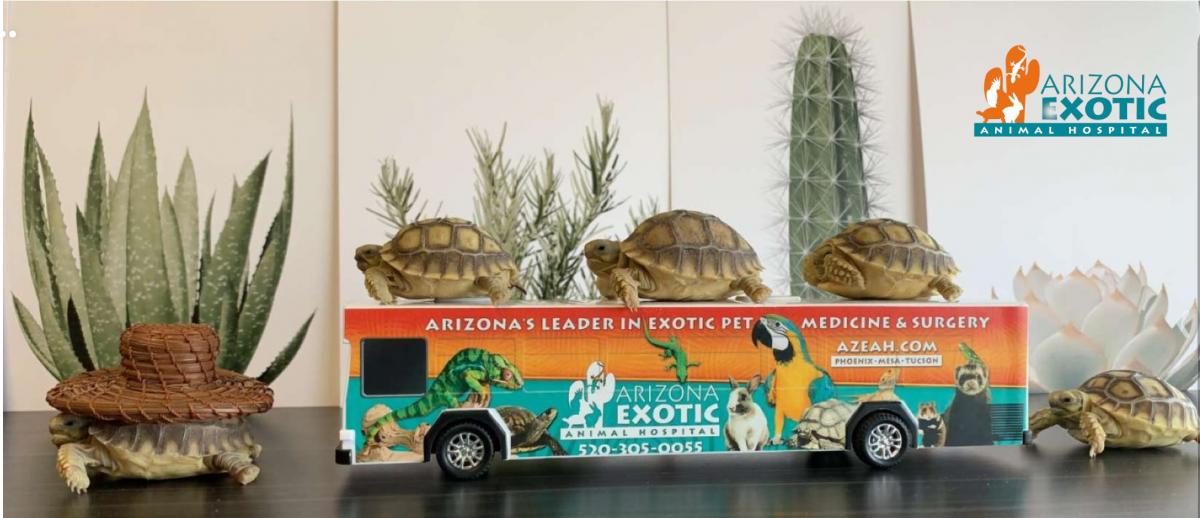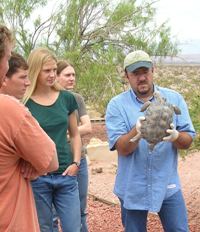 Arizona Exotic Animal Hospital provides complete veterinary services for all kinds of exotic pets in the metro Phoenix area:
Small Mammals – Ferrets, Rabbits, , Guinea Pigs, Chinchillas, Sugar Gliders, Degus, Rats, Mice, Hamsters, Gerbils, and other Small Mammals
Reptiles and Amphibians-- Tortoises, Turtles, Lizards (Geckos, Iguanas, Monitors, Bearded Dragons), Snakes (We will see rattlesnakes by special appointment only!), Frogs, Salamanders, Caecilians
Birds-- Parrots, Macaws, Cockatoos, Parakeets, Cockatiels, lovebirds, Canaries, Finches, Chickens, Ducks, Geese, Swans, and Others
Fish and other aquatic animals – Freshwater (Koi, Goldfish, Tropical fish), Saltwater (Fish, Corals, invertebrates).
Larger Mammals -- Pot-bellied and other miniature Pigs, Goats, Patagonian Cavies, Capybara
Invertebrates—Tarantulas, Scorpions, Crabs
Pretty much everything but dogs and cats! If you have an exotic pet and don't see it on the list, chances are very good that we've seen it before.
We have three experienced exotic pet veterinarians on staff, as well as a full crew of certified veterinary technicians and animal care staff. Our Mesa office is easy to access via the US60, 202 and 101 Freeways from anywhere in metro Phoenix. We serve customers in Phoenix, Mesa, Tempe, Scottsdale, Chandler, Gilbert and every other area in metro Phoenix.
In addition in-office vet and boarding services, Arizona Exotic Animal Hospital offers Valley-wide house calls as well as Distance Diagnosis services, including parasite exams, phone/fax/email consultations, bird sexing, long distance hospitalization and necropsy exams. We also have an exotic pet food and supply store with diets, supplements and other supplies we recommend to keep your pets healthy and happy.
We work with a broad array of enthusiast groups, rescue groups, private pet shops and other vets around the Valley. Learn more about our partnership programs.
Arizona Exotic Animal Hospital looks forward to providing the best vet care and boarding your special pets can get! You can save time and money on your first visit by completing your Client Profile first.. Once you've filled out our form, or if you've been here before, please use our site to book an appointment (in-office or house call), request boarding dates, order refills, or request a distance diagnosis.
Veterinary Associations
Our veterinarians are active members in many exotic animal veterinary organizations. Dr. Johnson is a past president of the Association of Reptilian and Amphibian Veterinarians, an international group of over 1000 members.  Dr. Corcoran is one of the founding members of the Association of Fish Veterinarians. The follow is a list of some of the professional organizations our veterinarians are members of:
Association of Reptile and Amphibian Veterinarians
Association of Avian Veterinarians
Association of Exotic Mammal Veterinarians
Association of Zoo Veterinarians
Association of Fish Veterinarians
Arizona Veterinary Medical Association
American Veterinary Medical Association