Dr. Heather Bjornebo, DVM, Dipl ABVP (Reptile/Amphibian Practice), CertAqV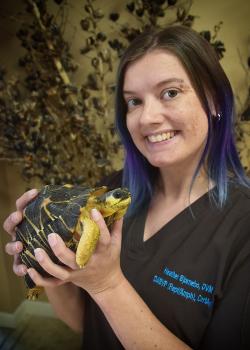 Dr. Bjornebo was born and raised in Sioux Falls, South Dakota. As a child, her love for animals was obvious and it was at a young age she made up her mind to one day become a veterinarian. It seemed she was always findings animals and bringing them home, from painted turtles or toads to one time a litter of mice. In 1998, she founded Caudata Culture, an informational, science based website about the captive care of newts and salamanders. During college, she worked for a pet shop as well as several veterinary diagnostic laboratories. She earned her bachelor's degree in Biology at South Dakota State University before attending veterinary school at Iowa State University. After graduation in 2007, having had her share of the sub-zero winters up north, she made her escape to the heat and sunshine of Arizona, where she has been practicing small animal and exotic pet medicine ever since. In addition, Dr. Bjornebo also was the contract veterinarian for the Arizona Sea Life Aquarium from 2011-2018. Dr. Bjornebo received her Certification in Aquatic Animal Medicine (CertAqV) from the World Aquatic Veterinary Medical Association (WAVMA) in May, 2016 after completing an extensive veterinary credentialing program to attain and demonstrate the necessary knowledge, skills, and experience to be competent in aquatic veterinary medicine (including mammals, amphibians, fish, and invertebrates).In 2017, Dr. Bjornebo received her board certification in reptile and amphibian specialty practice from the American Board of Veterinary Practitioners. 
Dr. Bjornebo actually first met Dr. Johnson shortly before graduation and they worked together for approximately 6 months at University Veterinary Hospital before he went on to open Arizona Exotic Animal Hospital, a place she is extremely excited to finally be a part of.
If you were to ask Dr. Bjornebo she would tell you that the human animal bond has no bounds, coming in all shapes and sizes; whether furry, feathery, or scaly. Nurturing and preserving this bond is what the art of veterinary medicine is really all about and through love she believes even the most humble creatures become family.
Dr. Bjornebo shares her home in the Valley of the Sun with 3 dogs, 3 cats, and close to 4 dozen exotic pets which includes various species of snakes, lizards, turtles, tortoises, tarantulas, birds, axolotls, koi, and a mini-reef aquarium with both fish and live corals. In her free time, along with caring for her "menagerie", she enjoys hiking, biking, snorkeling and scuba diving, art quilting and amigurumi crocheting.
Other Professional Positions/Appointments
Institional Animal Care and Use Committee Chairperson, PIMA Medical Institute Department of Veterinary Technology, Phoenix, AZ. 2014-2015
ARAV Executive Board - Member at Large, Association of Reptilian and Amphibian Veterinarians. 2015-2017.
Veterinary Consultant, Arizona SeaLife Aquarium. 2011-2018.
Peer Reviewer, Journal of Herpetological Medicine and Surgery. 2019-present
Presentations/Invited Lectures
The Avian Annual Exam. Arizona Seedcrackers Society, Mesa, AZ, Sept. 18, 2010
Ask-The-Vet. Arizona Seedcrackers Society Semiannual Bird Mart, Mesa, AZ, Biannually 2010-2014
Reptile Medicine for the Veterinary Technician. Anthem College Department of Veterinary Technology. Oct. 4, 2012
Reptile First Aid. Arizona Game and Fish Department, Phoenix, AZ, Oct. 7, 2012
Reptile Medicine for the Veterinary Technician. PIMA Medical Institute Department of Veterinary Technology, Phoenix, AZ, Nov. 2014, May 2015. 
Tortoise Urogenital Surgeries Hands-On Workshop. ExoticsCon, San Antonio, TX, Sept. 2017
Chelonian Prefemoral Ovariosalpingectomy Hands-On Workshop. ExoticsCon, Atlanta, GA, Sept. 2018
Pyosalpinx in a bearded dragon (Pogona vitticeps) having previously undergone successful ovariectomy. ExoticsCon, Atlanta, GA 2018
A Career in Exotic Animal Medicine. Midwestern University College of Veterinary Medicine, Glendale, AZ, Feb. 2019
Basic Tortoise Medicine and Surgery. Arizona Veterinary Medicinal Association Luncheon with the Specialists, Scottsdale, AZ, Apr. 2019
Urolithiasis and Surgery of the Lower Urinary System in Reptiles. ExoticsCon, St. Louis, MO, Oct. 2019
Emerging and Contagious Diseases of Captive and Wild Chelonians. Turtle and Tortoise Preservation Group Annual Conference, Mesa, AZ, Nov. 2019
Treatment of Traumatic Shell Injuries in Turtles and Tortoises. Veterinary Information Network Continuing Education, Online Webinar, Nov. 2019