Staff
Office Manager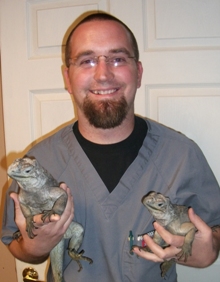 Mark Hamilton
​Mark spent most of his free time as a child chasing reptiles around northern Arizona and southern California. He joined the U.S. Army after high school which gave him the opportunity to chase reptiles around the southeastern United States, Europe, and the Middle East. Mark has cared for and raised many species of reptiles over the years. Although reptiles are his primary interest, he has a strong passion for all exotic pets. He currently spends most of his free time fishing at Arizona's desert lakes or photographing rattlesnakes.  
Staff Manager
Stacey Thomas, CVT
Stacey has always enjoyed being around animals.  Throughout her life, she has been "owned" by several different species of pets including: hamsters, fish, rabbits, birds, tortoises, lizards, snakes, dogs and cats. Stacey has been working in the veterinary field since 1997.   She became a Certified Veterinary Technician in 2004. Stacey has worked with large animals, small animals, and exotic pets.  Early in her veterinary technician career, she recognized her passion was with exotic animal medicine and has been working with exotic pets ever since.  She joined the team at Arizona Exotic Animal Hospital in 2008. Stacey shares her home with her husband Doug,  her son AJ (whom she commonly refers to as her resident primate), and Tessa the dog.
Certified Veterinary Technicians
Kendra McGarty, BS, CVT
Kendra graduated from the University of North Carolina at Chapel Hill with a Bachelor's degree in biology and later became a Certified Veterinary Technician. She worked for a veterinary dermatology specialty practice, where she had the opportunity to work with several animals at the Phoenix Zoo. She has also rehabilitated sick and injured raptors and other birds while volunteering at Liberty Wildlife. Her interest in exotic pets and wildlife/zoo animals led her to a career in exotic pet medicine. Kendra's family includes her daughter Jenna, Cho-Cho the pitbull, Tabasco the cat, Frankie the ferret, and a cockatiel named Trixie.
Rebecca Moffat, CVT
Rebecca has loved all animals for as long as she can remember, and has been working in the veterinary field since 1998. Rebecca followed her passion for working with exotic pets in 2001 and has been working primarily with them ever since. Rebecca earned her Veterinary Technician Certification in 2010. In her spare time she is a volunteer with the Phoenix Herpetological Society and Liberty Wildlife. She also rehabilitates bats for many wildlife groups. She has many exotic pets that she has adopted or rescued over the years, with the most unusual of her kids being a Brush-Tailed Bettong and two Patagonian Cavies.
Constance Testa, CVT
An Arizona Native, Constance has spent the last 30 years caring for a variety of birds, tortoises, turtles and other reptiles.  She has had the privilege of working professionally in veterinary practices for the past 17 years.  During her adventures in the veterinary field, Constance has gained experience and skills from many great doctors and staff, and has had the opportunity to work with birds of prey and primates in addition to companion animals.  She received her Arizona State certification as a technician in 2003. Constance is very honored to have joined the team at Arizona Exotic Animal Hospital.  She looks forward to continuing her education and advancing her technical skills in exotic pet medicine.   When Constance is not at work, you will find her enjoying freedom while riding her Harley Davidson Bagger. She enjoys spending time with her husband , 3 pit bulls, an amazon parrot named Fonzie, a goffins cockatoo named Jello, tortoises and a cross eyed cat named Merlin.    
Veterinary Techicians
Justin Duering
Justin was born and raised in the Pacific Northwest, and developed a passion for working with animals at a young age.  He entered the veterinary profession in 2002, and spent 11 years working at an exotic animal specialty hospital in Oregon.  When Justin moved to Arizona, we were happy to have him join our team.  He feels Arizona Exotic Animal Hospital is the perfect place to put his passion for helping pets and their owners to good use.  Justin thoroughly enjoys the unique challenges presented by working with such a wide variety of animals.  When he is not working with exotic pets, he enjoys being a dad, camping, hiking, and riding his Harley. 
Demel Boyenga
Demel was born in Illinois but moved to Arizona in 1997.  She has always been passionate about all animals, and has volunteered at many animal shelters through out the years.  Demel started her veterinary career in 2007 and has focused exclusively on exotic pet medicine for 4 years.  She is extremely passionate about education and wellness in all exotics, but has special interest in birds.  She shares her home with 2 human children, 2 cockatoos, a blue fronted amazon, numerous species of tarantulas, tortoises, 4 dogs, 3 cats, and multiple exotic companion mammals.  In her free time, she practices yoga and is an avid seamstress.
Veterinary Assistants
Risshan Pryer, Administrative Assistant
Risshan initially started at Arizona Exotic Animal Hospital in 2012 as a volunteer.  Her love of learning about and caring for exotic pets was clear, and she was hired to be part of the hospital team. She has a diploma in Veterinary Assisting. Risshan's favorite aspect of her job is giving each patient and client the care and compassion they deserve. She also enjoys spending time at home with her two children, dog, cat, hamster, and woma python.
Somer Portz
For as long as she can remember, Somer has loved and cared for many different kinds of animals. Somer graduated from the East Valley Institute of Technology in 2015, and was hired by Arizona Exotic Animal Hospital as a Technician Assistant after completing an externship with the hospital. She plans on pursuing a career as a Veterinary Technician, and will be attending Maricopa Community College starting January 2016.  In her free time, Somer has volunteered with Furever Friends Rescue. 
Zaneta Beukes
Zaneta has had a passion for animals since before she could walk!  After completing several years at DeVry University for Computer Information Systems, she  decided to follow her life-long dream of working in the veterinary field. Zaneta currently is attending school to become a certified veterinary technician and hopes to graduate in 2017. She likes to spend her free time going to the gym, hiking, swimming, and playing with her 4 dogs.
Hospital Support Staff
Tony Aguire
Tony became involved in animal rescue and animal advocacy at a very early age,  helping his mom rescue and rehabilitate wildlife and domestic pets.  His greatest role model in life has been the veterinarian James Herriot, famed for his "All Creatures Great and Small" series.  Later in life, Tony found his calling in animal behavior, specifically the rehabilitation of domestic and exotic canines.  Along with being a part of the team at Arizona Exotic Animal Hospital, Tony owns and operates PosiPaws Dog Training & Canine Behavioral Rehabilitation.  He is also active in wolf and wolfdog rescue.
Ron Hay
Ron works tirelessly not only here at Arizona Exotic Animal Hospital doing PR and maintaining hospital inventory. He also works part time at The Handlebar in Apache Junction bringing joy to it's patrons. He has 2 kids, Bill and Fred. A beautiful wife, Margaret. And a cat named Waldo.